THE BIG RED BUS COMPANY will put your advertising wrap on our Double Decker buses and then drive them, through the high profile areas of Los Angeles.
Los Angeles is the number 2 advertising city in the United States and what bigger impact could you have ,than having one of our Double Decker buses driving around the city.
Tens of thousands of people will see your Double Decker bus driving by day after day !
Places like:
WORLD FAMOUS HOLLYWOOD BLVD,SUNSET BLVD, THE SUNSET STRIP, WEST HOLLYWOOD, RODEO DRIVE, BEVERLY HILLS, WILSHIRE BLVD, MELROSE AVENUE, FAIRFAX DISTRICT, FARMERS MARKET,HOLLYWOOD AND MUCH MORE !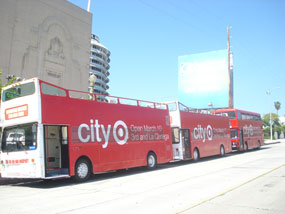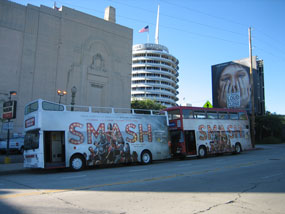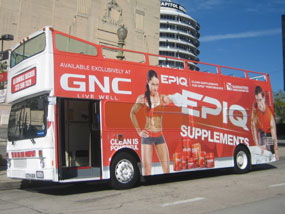 WHETHER IT IS 3 WRAPPED BUSES, TWO WRAPPED BUSES OR ONE WRAPPED BUS, WE CAN MAKE YOUR ADVERTISING CAMPAIGN A REALITY.
We can supply you with a company than can take care of all your design and wrapping needs for our buses
CALL US DIRECTLY FOR ALL YOUR DOUBLE DECKER ADVERTISING NEEDS !
Call STEVEN at 323 590 7529 to see how we can turn your advertising campaign into a Los Angeles reality.